8m SE of Dumfries on the B725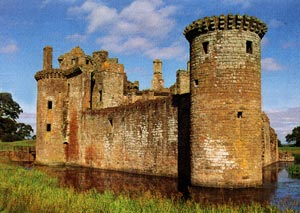 Caerlaverock (Lark's Nest), one of Scotlands finest castles, is everyone's idea of a medieval fortress. The scene of two famous sieges this moated castle has a children's adventure park, a model siege engine and nature trail in its grounds.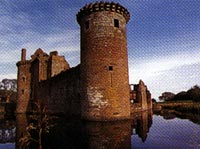 Constructed in the 1270s by Sir Herbert de Maxwell with a twin towered gatehouse and keep combined around the entrance. The castle is triangular in shape, tapering back in a southerly direction from the gatehouse. Water filled moats surround the castle, which was reached by a pivoted swing bridge leading to an entrance passage with iron bound doors and a portcullis. The original wooden galleries around the walls were later replaced with stone. Much of the present building dates from 1320, when the Murdoch Tower was added, although there were considerable extensions during the 15th century. In 1634, Robert Maxwell, first Earl of Nithsdale, constructed domestic accommodation withinthe south and east walls.