Few Scottish arms of this type are known, but that Scottish craftmanship could be of the highest standard is shown by a superb hanger of about 1685, which has survived in almost pristine condition. The hanger was in origin a hunting sword, but was found useful as a side weapon for less formal occasions and, in the days before regulation weapons were introduced, was very popular with naval officers. The single-edged blade is slightly curved and is stamped with the letter B and a scimitar, probably the marks of Wilhelm Bugel, of Solingen. Also on the blade, as well as on the underside of the guard, are the initials DB within a heart and the word KILMARES. These must refer to David Biggart of Kilmaurs, who evidently mounted a blade obtained from Germany. Kilmaurs is known to have been a centre for the manufacture of cutlery, and it appears that David Biggart may have been a cutler who turned his talents to hilt making and sword mounting. Those talents were considerable, for the grip is of especially impressive work, of tortoiseshell inlaid with floral patterns in fine twisted silver wire. As yet, this is the only such Scottish hanger known.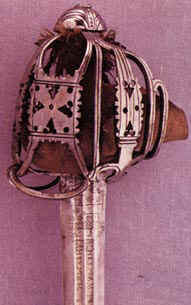 Equally Scottish is the basket-hilted sword, such as was used by the Highlanders in the risings of 17 15 and 1745, and has survived as the 'claymore' in Highland regiments to this day. The sword has a fine German double-edged blade, signed by Hermann Keisser, with the date 1570. It also bears the arms of Montrose. Indeed the sword is traditionally associated with the Marquis of Montrose who fought so hard for Charles I, only to be taken and, in 1650, executed. The hilt, however, is stylistically nearer to 1700 than 1650 in date. It bears upon the knuckle bow the initials IS, which have been identified as those of the armourer John Simpson, who was admitted to the Incorporation of Hammermen of Glasgow in 1683, was appointed King's Armourer in Scotland in 17 15, but died about two years later. The shape of the hilt, a combination of plates and bars protecting the entire hand, together with the grooved and pierced decoration of the various parts, may well have been standardised by John Simpson. Certainly hilts in this style continued to be made by Glasgow hammermen throughout the 18th century.

Below is a 21st Century replica of a late 17th Century Scots' Basket ,
from Armour Class in Scotland.

Article taken from 'European Arms & Armour- at Kelvingrove' by J G Scott, for more information visit Kelvingrove Museum and Art Gallery, Glasgow, Scotland.