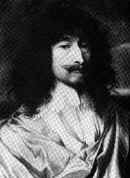 The 2nd Marquis stood for the king in the Civil War, and sealed his devotion on the scaffold. 'You may take my head from my shoulders', he told the Covenanters, 'but not my heart from my sovereign'. His castle suffered sorely for the loyalty of its lord.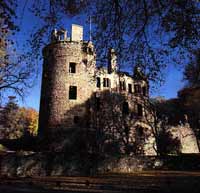 In 1640 it was occupied by the army of the Covenant under Major-General Monro. The parson of Rothiemay tells us how the house 'was preserved from being rifled or defaced, except some emblems and imagerye, which looked somewhat popish and superstitious lycke; and therefore, by the industry of one captain James Wallace (one of Munroe's foote captaines) were hewd and brocke doune off the frontispiece of the house; but all the rest of the frontispiece containing Huntly's scutcheon, etc, was left untouched, as it stands to this daye'

.

In October, 1644, the castle was briefly held by Montrose against Argyll. In 1647 it was gallantly defended against General Leslie by Lord Charles Gordon, but its 'Irish' garrison was starved into surrender. Savage treatment was meted out, for the men were hanged and their officers beheaded. In December of the same year Huntly himself was captured and on his way to execution at Edinburgh was detained, by a refinement of cruelty, in his own mansion. His escort were shot against its walls. In 1650 Charles II visited briefly on his way to Worcester, defeat and exile.

The Civil War ended the Huntly family's long occupation of the castle. In the early eighteenth century it was already in decay and providing material for predatory house builders in the village. In 1746, during the Jacobite rising, it was occupied by Government troops. Thereafter, it became a common quarry until a groundswell of antiquarian sentiment in the 19th Century came to the rescue of the noble pile.