Vegetable seller Jenny Geddes, attending morning service in St Giles, the High Kirk of Edinburgh, on 23 July 1637, is said to have picked up her stool and hurled it at the minister. That flying furniture led to the Scottish National Covenant, the English Civil War, the execution of Charles and the conquest of Scotland by Cromwell.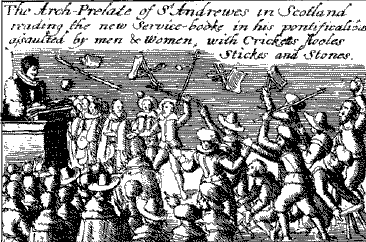 Jenny, known as the 'Princess of the Tron adventurers', the street traders whose market place was only a few yards further down the Royal Mile, was concerned to preserve the style of worship that had been familiar in her local church. Charles I had ordered the use of a new form of service, more like that of the Church of England.
'Daur ye say mass in my lug?' or, according to another version, 'Deil colic the wame o' thee', roared Jenny, as her stool, quickly followed by others, by Bibles and by anything else the congregation could lay their hands on, drove the dean of Edinburgh from the pulpit and church.