When Major-General Richard Deane gave up his command in Scotland at the end of 1652 in order to serve at sea it was reported that 'all things at present are at a strange kind of hush'. But it was the quiet before a storm. Lord Middleton, who had managed to escape from the Tower of London after being taken prisoner at the battle of Worcester, was nominated by King Charles II as his commander in the Highlands and pending his arrival there the Earl of Glencairne initiated a period of guerrilla warfare. Colonel Robert Lilburne, the Anabaptist officer who took over from Deane, though without the rank of Major-General, found his task too much for him. A rising began in the Highlands in July 1653 and Lilburne soon discovered that he had neither the strength nor the means to suppress it. Though the Marquis of Argyll remained cautiously neutral, his son, Lord Lorne, threw in his lot with the Royalists and Lilburne reported that without reinforcements of cavalry he was unable to cope with the outbreak. He was a sound officer, but he soon lost heart and was delighted when at the end of 1653 Monk was ordered to return to Scotland.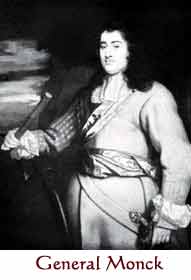 Monk did not assume his appointment until April 1654, when he was given extensive powers. Meanwhile Middleton had arrived and the fire of revolt spread. By February of that year Middleton had 8000 warriors at his command. It is a measure of Monk's personality and influence that while his demands on London were similar to those of Lilburne much more notice was taken of them. As soon as he reached Dalkeith, which he made his headquarters, and had grasped the situation, he asked Cromwell for reinforcements both of soldiers and of warships as well as for money - he had found only £500 in the Scottish Treasury. His needs having been met, he launched a campaign against Middleton's forces in the Highlands in June, as soon as the grass had grown enough to feed his horses. He divided his army into two columns, one led by himself, the other under the command of Major-General Thomas Morgan, and after a brilliant display of the art of manoeuvre amid the lochs and hills, Monk drove his enemy back on to Loch Garry where Morgan awaited them. Mobility was the secret of Monk's success, for his men were provided with seven days' rations. Thenceforward Middleton was never able to collect a force of more than a few hundred men. Monk and Morgan systematically devastated the Highlands, imposing fines on fathers who let their sons fight and offering rewards for the capture of Royalist leaders. 'We have followed the enemy these five weeks,' reported Monk to Cromwell on July 17th, 'and have now dispersed them into many several parts, having marched them from 3000 to 1200 . . . We have burnt such parts of the Highlands where they were utterly engaged against us . . .' and since the Scottish Cavaliers, for their part, threatened to set on fire the estates of the neutral Marquis of Argyll, he thought 'that the whole of the Highlands will, in all probability, be laid waste'.
Afterwards Monk, who had established a first-class intelligence system, arranged for a policing of the Highlands that prevented his enemies from rallying or uniting. He also completed the building of fortresses at Inverlochy, Inverness, Ayr, Perth and Leith, which enabled him to maintain the peace and at the same time release troops for punitive expeditions. But the policy of allowing Scots to volunteer for military services overseas, which had been practised on the Irish by Fleetwood, did not work so well as it had done in Ireland, though Monk himself preferred it to the wholesale transportation of prisoners of war to the West Indies. By these means he was able to reduce the English garrison of Scotland from thirteen regiments of foot and seven of horse to eleven of foot and five of horse and also to lower the establishment of the regiments. Thus the burden upon the English Treasury was diminished, although Monk continued to complain to Whitehall that the pay of his men was nearly always in arrears. He also protested to Cromwell that the assessment of taxes on Scotland was higher than the country could bear and managed to persuade him to reduce it.
- Maurice Ashley, 'Cromwell's Generals - "General Monck"'.