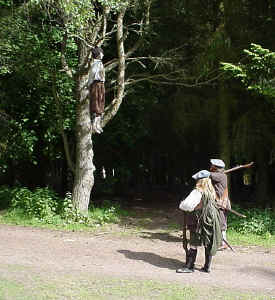 Life has slipped away, taken, suddenly But why? Did he turn against his own Flee from battle? Now sins to atone
Witnessed by his comrades, Each now perhaps, ashamed , Questions, answers Who to be blamed,
He hangs, suspended, Life ended , No more to wander The hills of his birth Share a dram, a joke A moment of mirth.
Shall he be missed , His loved one to kiss no more, Perhaps he had intended, When the fighting was done To sail to foreign shore?
Let us depart, this scene Of death , Did he cry "Justice" With his last breath?
Written by Dave Wilkie - It is an eerie scene indeed A life taken, but did he deserve To die like this? Only God knows.